Penpot Fest talks are now available online!
Bring Design Freedom to your Product Team
Designers and developers can finally work in unison to build beautifully designed software experiences that truly scale up.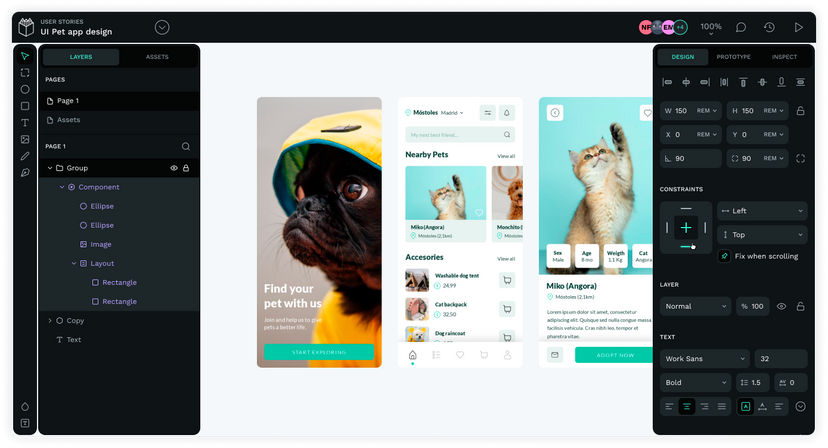 Penpot is the Open-Source Design & Prototyping Tool for Product Teams
Penpot is welcoming developers to the design process
Design has become critically important for software development and its role in delivering the benefits of technology to the end user. Unfortunately, the scalability gap between design and code keeps widening at an alarming rate.
The solution will not come from commoditizing design
But instead by building a new alliance between designers and developers that brings more agency and freedom to design
This can only be achieved with open source, open standards and true collaboration
Professional UI for the whole team
Design systems, components, interactive prototypes, feedback loop and pixel perfect designs come together in an extremely intuitive and powerful web user interface that opens up the design process to all stakeholders.
"I think it is hard to overstate how impressive this is. While it aims to be well integrated in tech workflows, it is a product that allows designers to work well, with a nice, usable and useful UI. Penpot is a product with a clear vision and great utility."
Designer & Developer collaboration for real
You can only truly collaborate when you actually enjoy sharing the same space. We bring both code-ready design capabilities and the familiarity of developer tools to a new workspace flow.
Oh my gosh - I love it. The controls felt very intuitive to me - way more intuitive! They map nicely to the mental models of actual CSS. I LOVE the wrapping options as well - so much more dynamic than I thought it ever would be! I also really appreciate how developer-friendly this is, so hand-off becomes simple!

Brett Haymaker
@BrettHaymaker
Open Standards that deliver future-proof ownership of your designs
Penpot unapologetically and unconditionally supports open standards for all your design work. Our SVG and web standards approach means zero vendor lock-in and extreme interoperability.
"Building a design tool on top of web & dev standards is super clever. @penpotapp Imagine autolayout behaving like css flexbox and no more design & dev back and forth. 🪄🤹 Instead of re inventing a workaround aka your own feature why not using all these open standards. Chef💋"
Silvia Bormüller
@svorklab
Unprecedented onboarding freedom
You get everything for free whether you choose to get your organization working on our Cloud service or self-host your own Penpot instance. There's even a multi-OS desktop option coming from our amazing community! Penpot projects can be moved around easily across all Penpot deployment flavors so you're free to change your mind at any time!
"I wanted to give @penpotapp a try for my product team and self-host it, and I'm honestly amazed at what the team has done to make this platform accessible. Such a game changer for open source design. Viva, open source and Penpot!"

Angela Oduor
@AngieNicoleOD
They love Penpot
We now have tens of thousands of organizations using Penpot, including all of our favorite open source projects. We didn't bother to list the top big corps everyone's thinking about, they know they belong here too.